​The new generation of Gen Z has shown a strong commitment to
sustainability and environmental, social, and governance (ESG)
practices when it comes to their job preferences. This generation, growing up in an era of increased environmental awareness and social activism, has a deep concern for the planet and a desire to make a positive impact in their careers.
When applying for jobs, Gen Z individuals prioritize companies that align with their values and demonstrate a genuine commitment to sustainability and ESG. They actively seek out organizations that prioritize environmental responsibility, social justice, and ethical business practices. These considerations are often as important as salary and other traditional job factors.
Candidates are looking for companies that have clear sustainability initiatives and policies in place. They value environmentally conscious practices such as renewable energy usage, waste reduction efforts, and sustainable supply chain management. They also appreciate companies that actively contribute to social causes and promote diversity, inclusion, and equality within their workforce.
According to a survey conducted by Deloitte in 2021, 70% of Gen Z respondents stated that a company's commitment to environmental sustainability would influence their decision to work there.

The 2019 Global Talent Trends report by LinkedIn showed that there was a 123% increase in the number of job postings mentioning "sustainability" in 2018, indicating a growing demand for sustainability-focused roles and companies.
How can companies recognize and address these values to better attract and retain top Gen Z talent?
Sustainability Webinar: Boosting Talent Attraction And Retention In The New Generation, Host by Rimm Sustainability
NextWave Partners' Learning and Development Lead,
Angie Wakefield
,
will be on the panelist discussion to further discuss:
The importance of employee engagement in optimizing talent attraction and retention for sustainable businesses

Navigating the challenges of sustainability engagement in APAC versues other regions

Key factors that contribute to successful employee engagement and best practices for measuring and evaluating progress
​
About Angie Wakefield, Learning and Development Lead
Angie brings a wealth of expertise in talent attraction and engagement strategies, along with extensive experience within the sustainability market. With a strong background in psychology and a deep understanding of the evolving expectations of the modern workforce, she has helped organizations navigate talent attraction strategies following ongoing industry trends. Her experience has helped build insight into the unique challenges and opportunities of attracting and retaining top sustainability-focused talent.

Don't miss the opportunity to learn from Angie and other esteemed panelists as we explore sustainable talent strategies that drive organizational growth and impact. Register now for the webinar and gain valuable insights to propel your organization's sustainability journey.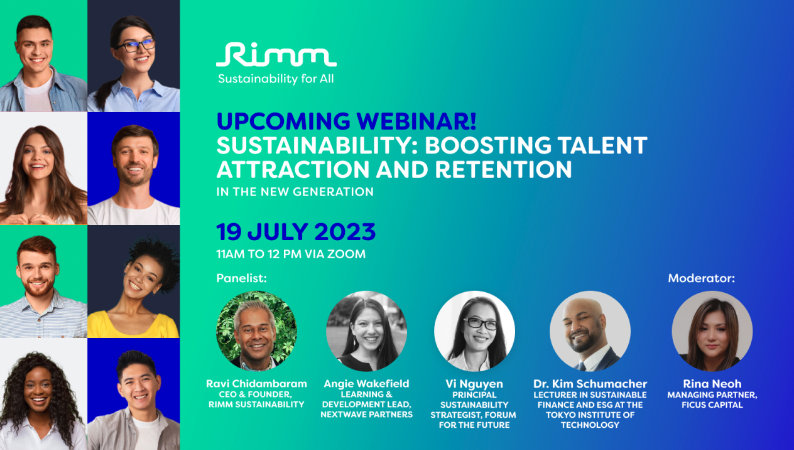 ​
​
Other Links: Energy Transition, Climate Tech, ESG / Sustainability, Permanent Recruitment, Project Solutions Recruitment, Executive Search