​"Doing Well by Doing Good"
NextWave Partners is proud to advocate and promote mental health awareness.
​
Mental Health on a Global Scale
Based on the World Health Organization's recent survey, statistics show that global mental health conditions are widespread, undertreated, and under-resourced.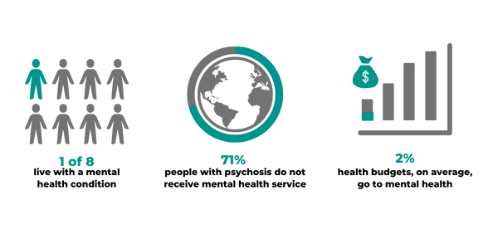 With nearly a billion people in the world living with a mental disorder, the need for adequate and accessible services is evident. But all over the globe, mental health systems are failing to meet their populations' needs. "Worldwide, more than 70% of persons who need mental health services lack access to care." ​
What Can We Do as a Business?
As a company, we can make a difference in mitigating mental health risks at work by integrating policies to support occupational safety and health. Some interventions include:
• providing flexible working arrangements
• involving workers in decision-making
• modifying workloads or work schedules to promote and enable a healthy work-life balance
Another step that managers and organizational leaders can take is improving communication. A study showed that employees who felt their managers were not good at communicating have been 23% more likely than others to experience mental health declines.
At NextWave Partners
We take proactivity in prioritizing our employees' mental health through resources and coaching to support our staff who struggle with stress, work-life balance, and other mental health risks.
Our services for internal staff members:
• mental health first aid certification for management team
• individual coaching
• personal development planning
• incentive trips, benefits, games, and social events
• mentorship program
"I appreciate NextWave Partners' implementing a mediator (Angie Wakefield) to help guide the discussion between myself and my manager regarding my working style, personal development priorities, and any of the challenges I may have in my work." - NextWave Consultant
​From Angie Wakefield Herself:
Our Head of People and Culture, Angie Wakefield, is a Certified Mental Health First Aider and provides individual coaching for our staff, as well as personal development planning. ​
​What are the first steps a company can make to provide mental health support systems to employees?
"It's super important to create an open dialogue about mental health, and make sure we don't stigmatize it. As a company, we can provide ease of access to information on where employees can find support for external help if they are struggling with mental health. These can include insurance plans, psychologists, therapists, or even just coaches. Don't assume that holding a yoga day once a year is enough. It's about constantly checking-in with your employees and making sure they understand the company will support them. "
​
​​​
Other Links: Energy Transition, Climate Tech, ESG / Sustainability, Permanent Recruitment, Project Solutions Recruitment, Executive Search